The Fritz Spiess Archive
Fritz Spiess was known as the Dean of Canadian Cinematographers. After his death on March 12, 1998, the Spiess family set aside his work related documents and commercial reels to be archived for the benefit of future cinematographers.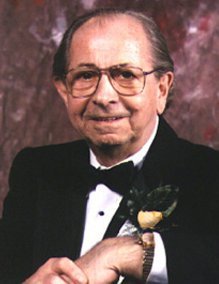 Fritz Spiess At The CSC Awards (1986?)
After consultation with a broad number of industry and archival experts, the materials were initially moved to the premises of respected film equipment rental house, William F. White who we would like to thank for being the archive's initial sponsor and host:

The archive has now been relocated to the University of Toronto Media Commons.

For more information, visit the archive's YouTube channel and Fritz's wikipedia page. Also, view a Playback Magazine article.
Many other companies have contributed: Please visit our sponsors page where we thank them all.
If you have questions on the status of the archives, please contact Gunild Spiess @ 416-225-5970 or info@fritzspiessarchive.com.